Ultrasound Probes for Sale
Here you will be able to see most of our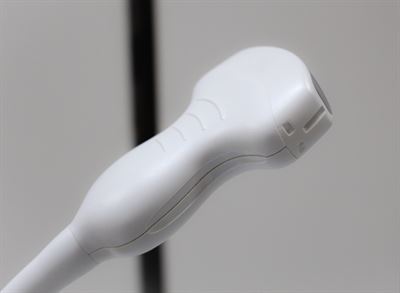 ultrasound probes for sale, but if you do not find the probe you need, please contact us regarding availability. For each ultrasound probe you will find images and a short description, in addition to the ultrasound probe price and condition. Before purchasing one of the ultrasound probes for sale, remember to double check that it is compatible with the ultrasound machine you have.

In the submenu below, you can choose to only browse probes from each of the major brands that we focus on – GE, Siemens, Philips, and Canon (former Toshiba).
Furthermore, our probes are divided into two categories: Premium Probes and Standard Probes. The standard probes are fully working used ultrasound probes that have been tested by our technicians but have minor cosmetic flaws. The premium probes are used or demo probes, that as the standard probes, are fully functional, and on top of this, are in great cosmetic condition. They are therefore comparable to new ultrasound probes.

Read more about ultrasound probe types or get tips on how to protect your ultrasound probes.




***
If you need further tips for purchasing ultrasound probes, we have collected some information here. Additionally, more in depth info is available on the corporate website.



Good advice when looking for ultrasound probes for sale
Double check compatibility to the system you are purchasing the probe for. It can be a challenge as probe compatibility can change with the model version.

Furthermore, make sure that you are buying the right ultrasound probe type for the type of examinations that you do.

To ensure that you will have a good experience, buy from well-known and trusted suppliers, who, like LBN Medical, will be able to guide and help you.



Ultrasound Probe Types
Probes for ultrasound systems comes in different types that differ in shape and features, hereby providing optimal images for many different types of ultrasound examinations.
Linear probes are mainly used for more superficial examinations. Including vascular, nerve and breast.

Convex probes are most often used for GYN/OB, abdominal, vascular, nerve and musculoskeletal examinations.

Phased array is used for smaller openings, such as the acoustic windows of the cranium or the intercostal spaces.

Endocavity probes, are, as the name suggests, used internally. Like the endovaginal and endorectal ultrasound probes.

Pencil probes/ Doppler probes are used for measuring blood movements.